Description
Metal detector for installation on conveyor belts
Detects magnetic and non-magnetic metal contamination, even when enclosed in product
Reduces expensive machinery failure and minimises production downtime
Ensures product quality
Prevents customer complaints
Break even within a very short period of time
Optimal detection and highest precision of metal detection in all areas of the detection head
Password-protected system log and menu controlled validation system for HACCP, IFS, BRC conform quality monitoring
Offers perfect adaptability to customer-specific requirements (200 different coil sizes for the closed coil system to choose from)
Available with multi-frequency technology
Compact design through highly reduced size of metal-free zone (RZ-technology)
Design in stainless steel with protection class IP 65 (higher protection grade on request)
Can be delivered as a complete unit with conveyor and separation system
Function
The metal detector GLS with closed detection head and rectangular opening is mainly used to analyse piece goods and bulk material on conveyors or material chutes. It detects all magnetic and non-magnetic metal contaminations (steel, stainless steel, aluminium) – even if enclosed in the product. On detection of metal, a signal device and a separation system can be activated or a signal can be send to process controlling.
The closed design of the detector has the advantage to guarantee high metal sensibility within the detection head. Consequently, this metal detector is mainly used for highly precise detection tasks (e. g. in the food industry). GLS Metal detectors can be combined with numerous separation systems (air blast, pusher, etc.).
Additional features
Individual size adaption to customer specific requirements
Can be installed on all levels
High mechanical stability and noise immunity
Largely insensitive to vibrations, hits and temperature change
Applications
Quality control for incoming and outgoing goods in the foodindustry according to IFS, BRC, HACCP, ISO 22000 etc.
Machinery protection for fruit and vegetable processing
Typical fields of application
Food industry
Chemical industry
Pharmaceutical industry
Packaging industry
Textile industry
Complete systems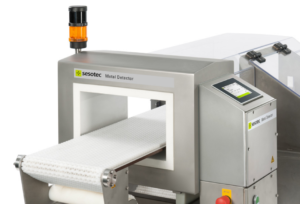 The complete systems UNICON+ and VARICON+ – consisting of GLS metal detector, conveyor and partially with separation unit – can easily be integrated into production lines. Due to the optimal coordination of all components, complete systems guarantee highest standards for security and detection precision.
Scope of delivery
Two-channel, stainless steel metal detection coil with tunnel opening
Equipped with control unit GENIUS ONE as standard