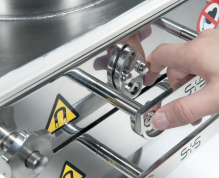 MAGBOX-MXF FOOD/PHARMA (Inline magnet for free-fall applications)
Designed for the food and pharmaceutical industries
Removes the smallest magnetic metal contamination (even slightly magnetized stainless steel)
Ensures consistent high product quality
Hygienic Design
Easy handling and cleaning
Customer specific designs available
Magnetic flux density up to 13,700 Gauss
Inspection of dry, free-flowing bulk materials
FDA compliant version
EASY CLEAN version
Accessories and special versions
Version for the pharmaceutical industry
Certified for ATEX zone 20 application
Sturdy design in 316L grade stainless steel
Minimum installation height
Performance characteristics
Function
Main components
Typical applications
Performance characteristics
The MAGBOX MXF incorporates the following features:
Grid magnets with a flux density of up to 13 700 Gauss.
Double row versions achieve the most efficient product contact further improving performance
Every MAGBOX MXF bebefits from the proven EASY CLEAN feature not only facilitating easy maintenance but quick and easy cleaning.
Pharmaceutical industry versions have a improved surface finish (Ra ≤ 0,6µm).
For high temperature applications, up to 100°C, high-energy neodymium magnets are often used and for even higher temperatures, a special samarium-cobalt material can be supplied.
Function
Main components
Typical applications