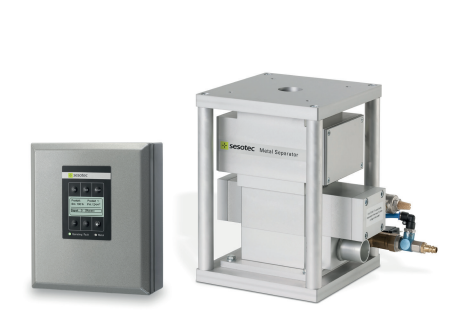 PROTECTOR PROFESSIONAL (High-performance Metal separator for extruders, injection-moulding and blow-moulding machines)
Detects magnetic and non-magnetic metal contaminants, even if such contaminants are enclosed in the product, and reliably separates them from the material flow
Reduces costs caused by mould and machine damage and production losses
Guarantees product quality
Protects against customer complaints
Offers a rapid return on investment
Extremely high scanning sensitivity for all metals even under high mechanical loads, e.g. with heavy conveyor, dosing, mixing, and feeding units mounted on top.
Metal contaminants are automatically and reliably separated into a closed collecting container through a 2 m spiral tube (option).
The metal separator guarantees a safe and reproducible function even if the material has a high regrind content (dust).
The space-saving, compact system design allows quick and easy installation.
Adapter plates for the quick connection of material conveyors of different manufacturers are available as an option.
Auto-Set (auto-teach function) or manual product compensation (no fixed setting) for improved adaptation to the intrinsic conductivity of the product to be inspected
Pre-set operating parameters for easy operation.
Minimum loss of good material due to proven "Quick-Valve" reject unit and venturi nozzle.
Function
Function chart
Scope of delivery
Options/ accessories
Typical fields of application
Used for
Function
Frequently even smallest metal particles in the plastic melt are the cause of expensive malfunctions in injection moulding, extruding, and blow moulding. With the growing use of regranulate and regrind materials the proportion of such metal contaminations is further increasing. Choked nozzles, filters, and hot-runner systems frequently enough result in loss of production, downtimes, and delayed deliveries. The PROTECTOR PROFESSIONAL metal separator is installed directly above the material inlet of an injectionmoulding machine, extruder, or blow-moulding machine. It detects all magnetic and non-magnetic metal contaminants (steel, stainless steel, aluminium, …) – even if such contaminants are enclosed in the product. Metal contaminants are automatically and reliably separated by means of the reject unit ("Quick-Valve").
The special design of the PROTECTOR PROFESSIONAL guarantees highest scanning sensitivity for smallest metal particles even under high mechanical loads, which may result from high superstructural assemblies, for example when various conveying, dosing, mixing, or feeding units are used simultaneously. The design with integrated reinforcing frame ensures that the high-performance detection unit is in no way affected by vertical mechanical forces.
Function chart
Scope of delivery
Options/ accessories
Typical fields of application
Used for