Description
Metal separator for extruders, injection moulding and blow moulding machines
Detects and separates magnetic and nonmagnetic metal contamination, even when enclosed in product
Reduces costly tool and machinery damage and prevents machinery downtimes
Ensures product quality
Prevents customer complaints
Breaks even within a short period of time
Highest sensitivity for all metals with high noise immunity against vibrations and electric smog
Patent-registered metal separator guarantees secure, reproducible operation, even when dealing with high quantities of grinding stock (dust)
Space-saving, compact design guarantees quick installation
Adapter plates for different models of conveyors and machines available (optional)
Auto-Set (auto-teach function) or manual product compensation (no fixed setting) for improved adaptation to the intrinsic conductivity of the product to be inspected
Easy operation through pre-set parameters
Minimal loss of good material through "Quick-Valve" separation unit and venturi nozzle
Metal contaminates are rejected through a closed system with collecting tray and spiral coiled tube (2 m, optional)
Function
Small metal particles in the plastic melting process often result in costly breakdowns of injection moulders, extruders and blow moulders. The quantity of such metal contaminants increases throughout the processing of regranulates and grinding stock. As a result, clogged nozzles, filters and hot channel systems can lead to production downtime and delayed delivery.
The metal separator PROTECTOR is installed directly over the feeder of an injection moulder, an extruder or a blow moulder.
It detects all magnetic and non-magnetic metal contaminants (steel, stainless steel, aluminium, etc.) – even when they are enclosed in the product. Metal contaminants are ejected via the "Quick-Flap" separation unit.
>
Installation example: Metal separator PROTECTOR installed overthe feeder of an injection
moulding machine (old version)(old version)
Function chart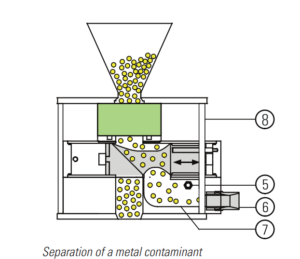 Material hopper
Detection coil
Separation unit
Converting machine
Metal contamination
Venturi nozzle
Reject outle
Reinforcing framework
Scope of delivery
Metal separator with remote Control Unit PRIMUS+
Options/ accessories
Optical and audible signal
Digital incident counter
Air pressure monitoring
Design for bulk material temperature of up to 140˚ C
Collecting tray for reject material
Adapter plate system
Magnetic separator SAFEMAG
UL/CSA Certificate
Typical application areas
Used for
Tool and machinery protection for extruders, injection moulding and blow moulding machines