Food Safety Breaking News!!
Look Twice Before You Eat Your Fishball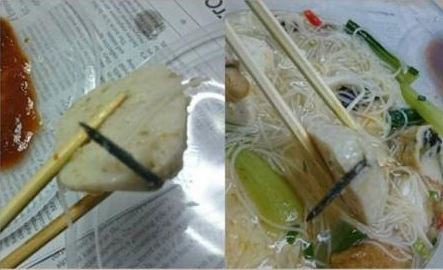 A Singapore woman wrote about how her colleague had allegedly found a metal nail in a fishball from a yong tau foo stall at Queen Street on 8 Nov 2016. Colleague bought YongTauFoo for lunch today from a coffee shop at Queen's Street and saw a horrifying 1 inch nail in a half-cut fishball. When confronted, stall owner claimed that it wasn't his fault as the fishballs were supplied by a supplier!
Incident as above can be avoided by using a Metal detectors for food, as they are primarily used for the purpose of consumer protection. Despite maximum care metallic contaminations of food products during the production process cannot be fully excluded. Metal particles that enter the product during the production process or already are contained in the raw material may cause serious injuries to consumers. The consequences for the producing company are numerous and serious and that include compensation claims and expensive recalls. Even bigger and longer-lasting damage is caused by the negative brand image and the loss of consumer trust caused by impure food products.
JS Analytical is offering Sesotec Metal detectors that is made in Germany, provide effective protection against ferrous and non-ferrous metals (aluminium, stainless steel, etc.). These Sesotec metal detectors can be installed in every step of the production process and can be used for many different applications, e.g. for the inspection of bread and bakery products, meat and sausage product, fruit, vegetables, dairy products, spices, sugar, etc