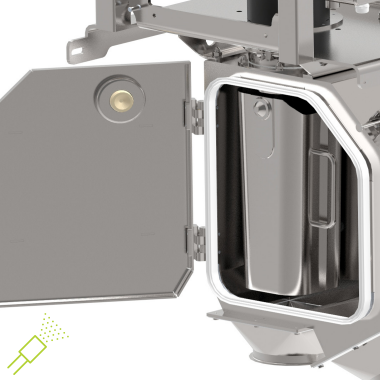 RAPID PRO-SENSE 6 (High-performance metal separator for resin and compound manufacturers)
Metal contaminations in plastic material are one of the most frequent reasons for machine downtimes and quality defects in the plastics industry.
It is therefore important for resin and compound manufacturers to carry out quality control concerning metal contaminations.
This ensures consistent product quality, protects against complaints and avoids high costs for returns.
Metal separators for use in resin and compound production must meet specific requirements:
Detection of smallest metal contaminations, even in large pipe diameters
Frequent colour and material changes
Easy and quick cleaning
Application with abrasive materials
Benefits
Application
Features
Benefits
The RAPID PRO-SENSE 6 metal separator supports compounders to provide quality control, process reliability and economic efficiency.
Quality control
Consistent product quality
Prevention of complaints caused by metal inclusions
Traceability through logbook function
Process reliability
Reliable and fast cleaning even in complex installation situations
Reproducible cleaning process
Economic efficiency
More uptime through short cleaning times
Reduced manual effort
Application
Features