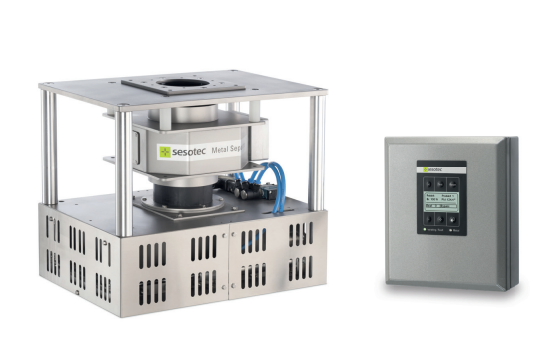 PROTECTOR-MF (Metal separator for extruders, injection moulding and blow moulding machines)
Detects and separates magnetic and nonmagnetic metal contamination, even when enclosed in product
Reduces costly tool and machinery damage and prevents machinery downtimes
Ensures product quality
Prevents customer complaints
Breaks even within a short period of time
High scanning sensitivity for all metals and highest possible immunity against vibration and electromagnetic interference.
Proven separating unit (separating slide) guarantees safe and reliable operation even in applications with high material throughput rates or with a high content of flakes or regrind.
Fast-acting separating slide ensures that for initial filling and re-filling processes metal particles in freefalling granulate are safely separated, and the loss of good material is kept to an absolute minimum.
Detects and separates magnetic and nonmagnetic metal contamination, even when enclosed in product
Reduces costly tool and machinery damage and prevents machinery downtimes
Ensures product quality
Prevents customer complaints
Breaks even within a short period of time
Compact design facilitates the mounting of heavy conveying, mixing, and dosing units.
Auto-Set (auto-teach function) or manual product compensation (no fixed setting) for improved adaptation to the intrinsic conductivity of the product to be inspected
Preset operating parameters provide outstanding ease of operation
Function
Function chart
Scope of delivery
Options/ accessories
Typical application
Used for
Function
Even small metal particles in molten plastic can cause expensive and time-consuming damage to extruders, injection and blow moulding machinery. As the use of plastic regranulate increases so does the probability of metal contamination, potentially causing blockages in nozzles and filters. However, machine breakdowns, loss of production and delivery delays are not the only consequence; the cost of repairing an extruder spiral or cylinder damaged by just one single larger piece of metal is many times more expensive than the cost of a PROTECTOR-MF system. In the production of plastics, compounds, composites, etc. the PROTECTOR-MF metal separator ensures product quality. PROTECTOR-MF metal separators increase machine availability and productivity providing a fast return on investment.
Installation example: Metal separator installed at thematerial infeed. (old version)
Function chart
Scope of delivery
Options/ accessories
Typical application
Used for