Description
Metal separator for free-fall applications
Metal separator for the inspection of powdery, fibrous and chunky bulk materials
Detects magnetic and non-magnetic metal contaminations
Separation by way of swivel hopper
Dust-proof reject outlet design
Hygienic design for easy cleaning
Complies with IFS and HACCP
Separation unit and product-contacting metal parts completely made of stainless steel 1.4301 (AISI 304)
Low mounting height even with large nominal widths guarantees easy integration of the metal separator in existing pipe systems
Quick and minimum-effort installation due to standard Jacob connection system
Auto-learn function or manual product compensation (no fixed setting) for improved adaptation to the intrinsic conductivity of the product to be inspected
Increased interference immunity to electromagnetic pollution and vibration
Highest scanning sensitivity for all metals
Function
The RAPID 8000 metal separator is used for the inspection of bulk materials in free-fall conveyor pipes starting from a nominal width of 200 mm. It detects all magnetic and nonmagnetic metal contaminations (steel, stainless steel, aluminium, …) – even if such contaminations are embedded in the product. Metal contaminations are rejected by means of a swivel hopper. The reject outlet is of dust-proof design during normal operation.
The RAPID 8000 metal separator primarily is used in the food industry in applications with high hygienic demands.
Complete systems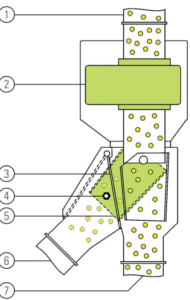 Inlet pipe
Detection coil
Sealing flap
Metal
Swivel hopper
Reject outlet
Material outlet
Applications
Incoming inspection (product purity and machine protection) of coarse spices with a high dust content, bulk materials with coarse to fine-grained contents, ingredients, raw materials, etc. prior to the processing machine (e.g. mill).
Quality inspection (product purity) of food powders, sugar, salt, chemical additives (e.g. ascorbic acid, surfactants), etc. directly before filling in bigbags and silos.
GENIUS ONE control unit
Common features:
Highest sensitivity for all metals (2-channel technology)
Digital signal processing and quartz-stable search frequency
State-of-the-art microprocessor technology with selfmonitoring, auto-balancing, and temperature compensation
Product compensation with auto-learn function
Multi-product memory
Password protection / access protection
Special EMC combifilter for suppressing external interference
Typical fields of application
Animal feed industry
Chemical industry
Food industry