Description
Intelligent x-ray product inspection system for packaged products – End of line inspection
Longer lifetime of core components
Application variability
Surpassing detection requirements
Increased ease of use
Performance features
The RAYCON D+ product inspection system detects all contaminants that due to their density, chemical composition, or mechanical dimensions absorb x-rays better than the surrounding product.
With its optional capability using Dual-Energy technology the performance for soft contaminants gets extremely improved for materials e.g. types of plastics (PVC, aso.), rubber, ceramics, stones, calcified bones and similar materials.
Detectability of different materials depending on their density
The RAYCON D+ product inspection system is characterised by the following
performance features:
Throughput: ~250 pcs./min. (product specific)
Detection capability starting from Ø 0,3 mm
200W long life x-ray generator
Highest operator safety due to low x-ray emission < 0.5 µSv/h
Modular and stable frame design allows easy transportation and safe installation
Ambient temperatures from 0°C to + 40°C
IP 66 protection class within conveyor area
Functional diagram
The system comprises of the following main components:
(A) X-ray tube
This is where x-rays are electrically generated. The x-rays are emitted from the tube through a narrow slot and as a fan-shaped beam pass through the product to be inspected from back to front.
(B) X-ray beam
(C) Transport system
A PE flat belt (self guiding) uniformly transports the product to be inspected through the x-ray beam. This makes it possible to scan the
product line-by-line.
(D) Detector unit
The linear detector that is installed above the inspection aperture converts the arriving x-rays into an electrical signal from which a digital
x-ray image is created.
– 0,4 mm HD resolution
– 0,8 mm Dual Energy
(E) Industry-type PC
The PC is used to evaluate the images and to accurately control the reject systems.
Key Benefits
Longer lifetime of core components by Intelligent Power Management (IPM)
Automatic detection of product height
Automatic power adjustment of the x-ray source
Extended lifetime of x-ray source
Increase of energy efficiency
Maximum sensitivity without special settings
Time savings during the learning process of the different products
Application variability
The modular design allows adaptation to various applications
Depending on machine configuration, foreign bodies are detected from 0,3 mm
Modular principle enables fast, uncomplicated and cost-transparent upgrade
Platform concept enables subsequent update
Easy to clean due to hygienic design
Tool-free belt change within 2 minutes
HD (High Definition): Detects foreign bodies from 0,3 mm (e. g. stainless steel, steel, copper, glass, …)
Dual Energy: Detects soft impurities from 2,0 mm (e. g. bones, rubber, …)
Surpassing detection requirements
Surpasses the latest and most valid food regulations by up to 400%
False reject rate (F.R.R.) below 0,01%
The system detects products up to a conveying speed of 1 m/s
Maximum throughput is 250 pieces per minute
Increased ease of use
The 15 "HD touch display in 16:9 format offers a high resolution for excellent picture quality
No special operating knowledge is necessary
Automatic recognition of the product packaging by the edge filter
Minimizing the frequency of false rejects and product wastage
Automatic detection of the x-ray source lifetime and early warning by the system
Warranty extension from 3 to 5 years through the optional service package
Technology comparison
High resolution vs. Dual Energy
Sensitivity:
Conventional systems                                    RAYCON D+                       

30% found foreign bodies                            100% found foreign bodies
Sliced bacon with 0,3 mm stainless steel impurities
Conventional systems                                        RAYCON D+ Dual Energy  
0% found foreign bodies                                   100% found foreign bodies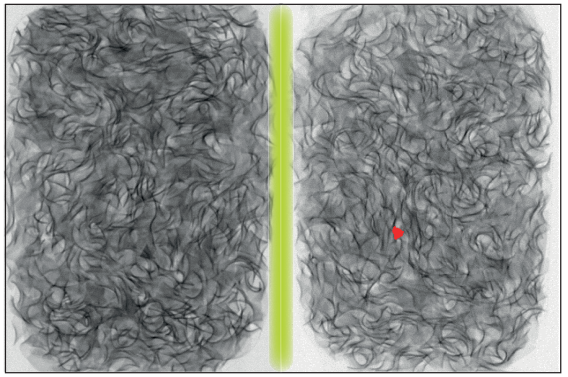 Noodles with glass splinter 2 mm x 3 mm (W x L)
The RAYCON Family