Automotive firms require the appropriate instruments, such as spectrophotometers, to ensure efficient production throughout a global supply chain. This is to turn these challenging times into opportunities and success. The automotive device industry is changing as many people experience significant financial hardship. Innovative designs, paint and coatings trends, as well as new mobility alternatives including driverless cars, micro-mobility, and electric mobility, will aid in the industry's return to stability.
Accurate color measurement and quality control are essential components of the vehicle manufacturing process. This is because color and aesthetic appeal play a significant impact on preference and brand image. Modern color-measuring spectrophotometers are necessary to produce automobile paints. Also, finishes with the same color and sophisticated effects that customers desire. From the laboratory to the supplier to the paint shop to the assembly line. Our cutting-edge spectrophotometer works together to manage every element of paint color and look.
With an automobile color-measuring solution, the following may be accomplished:
Specify with regard to both analogue and digital color standards.
Create designs for various components of each vehicle utilizing 3D virtualization and exact optical properties as the real material.
Use color formulation software to create unique effects and metallic paint and coating formulas.
Measure from various angles to describe color, glitter, and coarseness using compact, lightweight instruments.
Using inline multi-angle devices that measure effect paints without making contact. Also, you can keep color quality and consistency at a perfect 100% on the production line.
QC software connects the final assembly of the vehicle to its design.
Spectrophotometer Designed for Color Control
Cars that are distinctive and cutting-edge change how buyers view their vehicles. Customers benefit from a pleasant environment when high-tech features, beautiful design, comfort, and usefulness are combined in a vehicle. To achieve genuine color fidelity, a trustworthy color measuring system or spectrophotometer is necessary. This is to, integrate various textures and materials including plastics, metals, and leather on the inside and the outside.
By using a spectrophotometer that can characterize color and appearance qualities on a range of textures. You can also precise measuring to make sure that color is precise at the time of final assembly. Our color management for automakers streamlines the color management procedure over a worldwide supply chain. This is to reduce product waste, manufacturing downtime, and rework, and links color precisely throughout the whole process.
With the use of a customizable solution, automakers can:
Up to 50% more initial matches are made, and color correction stages are reduced in half.
Ensure that colors are consistent throughout international facilities and automotive component suppliers, from color definition to color production.
Analyze how painting 60 per cent faster affects assembly and painting lines.
Quickly develop new coating systems with precise color and aesthetic requirements in response to market needs.
Provide color compatibility amongst automobile components, including trim, mirror housings, and bumpers.
Will Gather data for straightforward quality analysis and product evaluation.
MA-5 QC Multi-Angle Spectrophotometer
For Spectral Measurement at 5 Angles.
Small, light, and simple to use.
Uses five common measuring angles to assess metallic hues and special effect finishes.
Requires little to no downtime to integrate easily into QC operations.
The spectrophotometer MA-5 QC:
Actionable Color Measurement for Effect Finishes
The MA-5 QC spectrophotometer was designed with quality control managers in mind. Also, can detect color errors early in the production process, preventing needless rework. It is 60% quicker, 50% lighter, and 40% more compact than any other five-angle gadget. It is simple for operators to place the MA-5 QC spectrophotometer with one hand and take more measurements each hour.
Measuring Color Confidently
The MA-5 QC spectrophotometer can gather many data points for automated jobs and acquire a measurement in less than 2.5 seconds. The lightweight and compact form makes one-handed operating simple and reduces operator fatigue. Correct placement is ensured by indicator lights, and dust is kept out of the device by an automated optical shutter.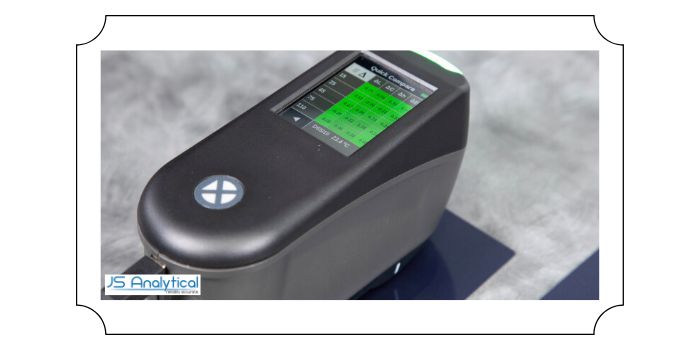 Easy Data Analysis
A user-friendly touch screen, red and green pass/fail indicators for simple tolerancing. Not that only, quick data output with one-click reporting are all features of the MA-5 QC spectrophotometer. This spectrophotometer can evaluate if sample temperature is impacting color data using a first-of-its-kind temperature preview, you can make wise judgements. Set the MA-5 QC spectrophotometer into the handy docking station to charge and connect to a PC.
Visit our website to know more about the spectrophotometer