To ensure correct, using a precise handheld spherical spectrophotometer may help you satisfy client requirements, improve consistency and production efficiency, and save waste and downtime. At every point in the manufacturing process, the performance-driven portable spherical spectrophotometers provide a rapid measurement and tolerance comparison option. This spectrophotometer addresses problems with color measurement in a range of sectors and provides a variety of setups and pricing ranges.
An Advantage for Color Control That Fits in the Palm of Your Hand – Spectrophotometer
For a wide range of products and industries, the Ci60 series intend to regulate and guarantee constant color quality. By using a spectrophotometer, manufacturers may effectively manage process quality control and lower operational costs among suppliers.
Ci60 Spectrophotometer Features
Switchable measurement aperture (Ci64) provides greater flexibility for illumination spot size:
Status LEDs offer real-time visual feedback
Compact dimensions to fit in your hand
Easy-to-read high-resolution color LCD screen
Bluetooth wireless communication with other system components
Embedded Net Profiler (Ci62 and Ci64) monitors instrument and performance
USB cable for communication with QC or QA systems
Remote measurement trigger for convenient measurements
Simultaneous SPIN/SPEX
A, C, D50, D65, F2, F7, F11 & F12 illuminant types
Gas-filled tungsten lamp light source
UV calibration (Ci64 UV) increases accuracy with OBA samples
400nm–700nm spectral range
Common SP flip-back shoe that aids in sample presentation and techniques
.10 ΔE*abshort term repeatability on white ceramic (Ci64)
Approximately 2-second measurement time
Remote measurement trigger to initiate hands-free measurement
A Multipurpose Spectrophotometer for a Variety of Color Uses
The Ci60 series portable spherical spectrophotometer delivers exceptional measurement performance. Also, assure color quality in receiving, field operation, and throughout the production plant. This includes painted surfaces, moulded plastic components, packaging, and garment fabrics. Help to assess gloss, opacity, & color strength on complicated materials & analyze color variations in a variety of fields such as:
Retail Paint and Commercial Coatings: Provide uniformity for batch-to-batch color conformance while adhering to strict color rules and regulations.
Plastics: Before shipment, look for irregularities starting with the raw materials and continuing through the completed product.
Automotive:
Specular component SCI/SCE measurements will carry out concurrently on OEM interiors, aftermarket parts, second and third-tier supplier components, and more.
Textile Materials:
Use the calibrated UV-enhanced lighting on the spectrophotometer to assess color & texture, govern shade sorting, & regulate optical brightening agents (OBAs). To maintain color consistency and brand integrity throughout all packaging, measure the color and reflectivity of metal substrates and inks.
Home furnishings:
To give a benchmark measurement for each stage of manufacturing and assembly, measure color on glossy and textured materials such as wood, paint, plastic, metal, & more.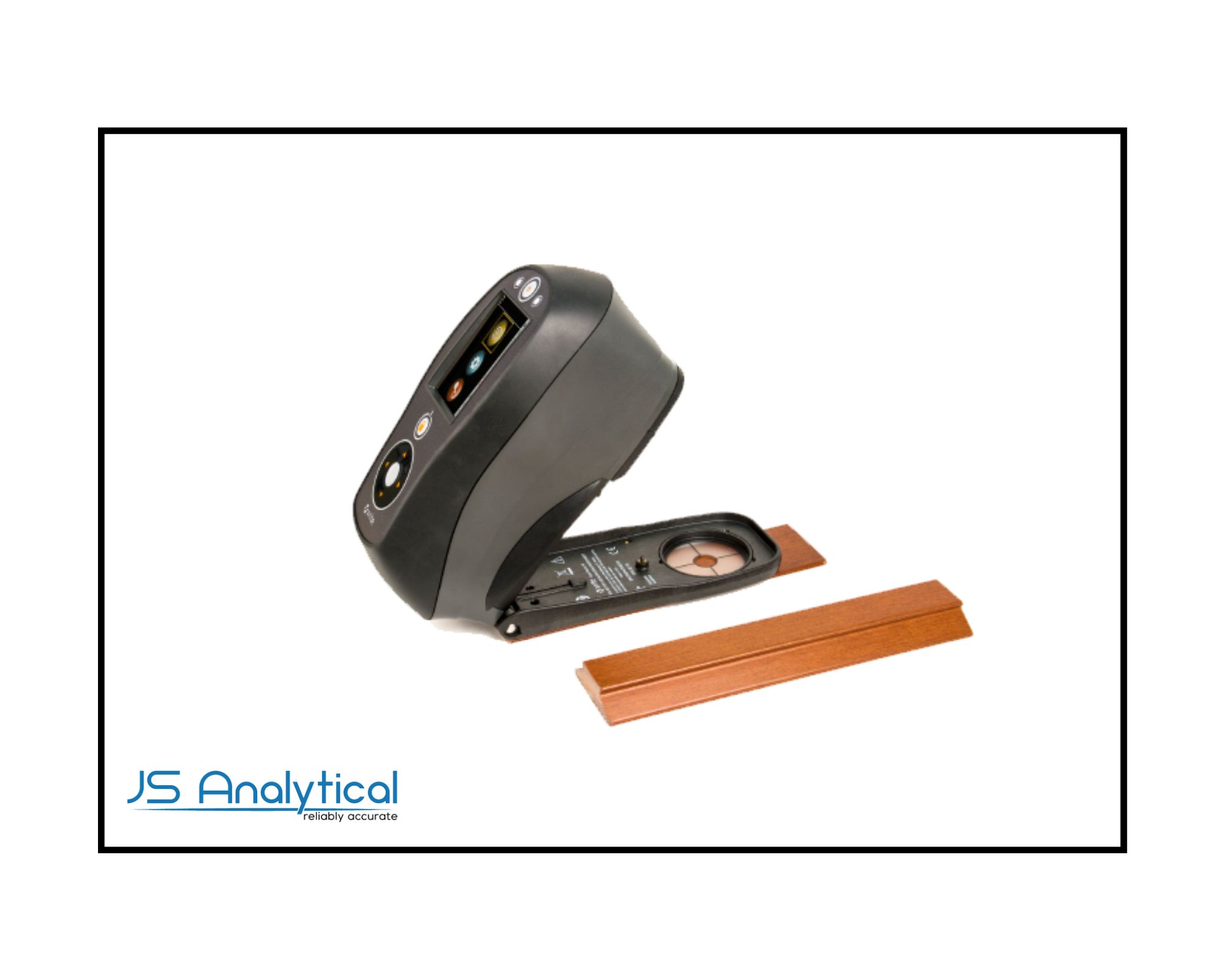 Ci64 Handheld Spectrophotometer
For the Most Accurate and Precise Measurement
High-end quality control system that works well in the lab, outdoors, and in industrial facilities.
To test a range of samples, with switchable apertures available.
Uses a UV model to evaluate optical brightening compounds.
Overview
Color consistency increases profitability. The Ci64 spectrophotometer is the most accurate portable spectrophotometer, and it comes in three variants to accommodate various measurement requirements. The Ci64 spectrophotometer with Color iQC software results in the best color measurement and management solution. For discriminating color QC specialists in a variety of sectors, such as plastics, coatings, and textiles, pairing.
The Best Handheld for Consistent Color Control The Ci64 spectrophotometer is the most accurate and precise handheld sphere spectrophotometer. It comes in a variety of configurations with simultaneous SPIN/SPEX, correlated gloss. Also, a UV option to precisely measure uneven surfaces on various goods and packaging types.
Key Benefits of Spectrophotometer
Color measuring operations are quick and simple for users to comprehend on the Ci64 spectrophotometer. This is because of its big, high-resolution color screen and adjustable menus, which promote reliable operation. Variations in color and gloss can be quickly discover by using accepted measuring techniques. This is for assure proper color judgements or to confirm visual examination (SPIN/SPEX).
The distinctive Spectrophotometer demonstrates precisely how measurements will be performing for precise & repeatable color collection. Data to assist statistical process management across shifts, production lines, and sites.
With track-and-trace and audit trail features, you can monitor performance. Besides, can keep a history of the measurement circumstances across several devices and locations.
Simple recall of past samples and data, you may access up to 4,000 samples in the device.
Employ the spectrophotometer as a workstation for more capability or portability. The ci64 spectrophotometer may benefit from cutting-edge quality control and formulation software by being connecting to a computer.
The automatic uv calibration in the spectrophotometer ci64uv model allows for the examination of the impact of optical brightening agents.
Measure optical brightening agents with assurance
Ci64 spectrophotometer has a variety of aperture size options, as well as the choice to add UV LED light. Accurately assess the color of plastics, fabrics, and papers that include optical brightening agents, and users.
Improve the consistency of measurement procedures
Users of the Ci64 spectrophotometer can comprehend measuring processes and examine results straight from the device. It makes sure that data is collected accurately. Also, that statistical process control is used to maintain consistency across shifts, production lines, and manufacturing facilities.
For further information click the link below: